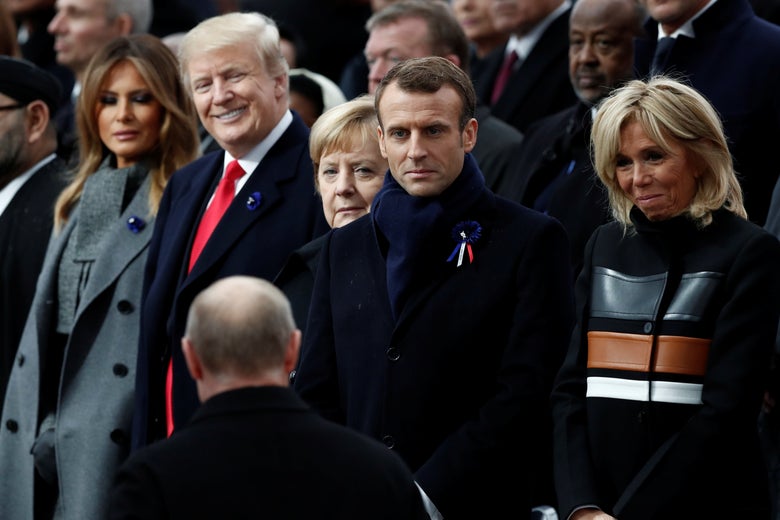 Republicans were once proud of claiming that Ronald Reagan won the Cold War. "Mr. Gorbachev, Tear down this wall" was the moment often cited as the key point of challenge in a war that threatened more than once to end life on the planet as it waxed and waned from 1946 to 1991. When the wall came down in 1989 and the USSR unraveled until it collapsed in 1991, Republicans stood as the party that took the firmest defense of America's interests abroad. That stance of confronting any and all threats, both real and imagined, to the US backed global order continued throughout the Bush I and Bush II regimes. Republicans, including Trump, frequently attacked the Clinton and Obama administrations for their supposedly weak defense of American interests  abroad.
But when the Russians attacked us in the citadel of our democracy, our elections, Republicans actively cooperated with Russia to cover up and deny that attack, and even took money from organizations such as the NRA that appear to have been turned into laundromats for Russian money. Meanwhile, Republican Supreme Court nominees in the Citizens United decision threw the door open to dark money and ensured that this dark money would be untraceable.  In effect the Republican majority on the Supreme Court turned the Constitution, with its protections of fundamental rights and democratic processes, into a suicide pact in which dark money from whatever sources could be used to turn us against ourselves.
Now, Republicans defend a president who seems determined to aid former spy, current Russian dictator Vladmir Putin, to reverse that Cold War victory. Moscow Mitch may be an epithet, but it accurately reflects the core of compromise and accommodation that now characterizes what was once described as the party of Ronald Reagan, the man who won the Cold War. Now, Republicans stand firmly behind, and beside, and in front in defending Trump, a man who appears determined to leave the United States without allies, without alliances, and surrounded on all sides by enemies determined to redraw the maps of the post WWII/post Cold War world.
This is not an imagined fear. It is all too real, and very far along in its progress. Yet no Democratic debate yet has really probed this threat to our freedoms and even our existence as a nation. This must be recified in the coming debate. Make no mistake about it, as Bill Taylor's 15 pages of opening testimony attests, NATO and the European Alliance are in deep peril. Russia has already and continues to use force to redraw the post Cold War European map. American allies in Ukraine and Syria are dying as a result of Trump's treachery. Russia has the center of the NATO line already weakened. With Turkey's connaivance, Russia has now weakened the southern flank. And Trump is doing all he can to wreck America's Pacific alliances and the China Card Reagan played that was crucial in ending the Cold War.
I spent the final years of the Cold War between the USSR and USA living and working in Hong Kong, which was then described as the window on China and a hotbed of agents of all sides on the prowl for intel. Reagan was in his final two years as President. As China reformed and opened up during the 1980s, the peril and isolation of the USSR grew. This was readily discernible from Hong Kong, where I continued to live until late 2015, teaching in a department of government and international studies. When the West, in no uncertain terms, punished China for the mid-1989 Tiananmen Square massacre with sanctions and with effectively siphoning off many of the most promising Chinese students abroad, Soviet leaders knew that their shaky economy could not withstand a similar response. And this played a role in the hesitancy they exhibited as demonstrations grew throughout the Soviet bloc and eventually spread to the USSR "republics" themselves.
The unity of the West, led by the United States, and buttressed by our ringing affirmations of democracy and freedom in defensive alliances such as the UN and NATO, as well as in agencies of economic cooperation and freedom such as the World Bank and WTO (then the GATT), constrained and then collapsed the dictatorships that ruled the majority of humanity during the Cold War. The Ukraine, as a result, broke free.
Russia has never accepted Ukraine's independence and it appears it still covets its lost global influence. Putin appears determined to resurrect Russian global power and simultaneously destroy America's.
This Cold War victory is thus in very real danger of being reversed. If Putin can break up the EU and NATO, the United States loses access and assistance from what is currently the largest economic bloc on the planet. Technically, the US and EU together command about 40% of the global economy. With the Asian alliance with Japan and our strong relations with China, well over half the global economy was strongly influenced by the United States as of 2016. But America alone is about 16-18% of the global economy, and shrinking. In purchasing power parity terms, China is already larger economically than the US according to the World Bank. A Russia-China bloc would have immense global influence without a US-EU-Japan and other allies block to counter it. If the US is weakend enough, you can be certain China will move to secure its hold over the entire South China Sea and over Taiwan. Japan, alone, would have no choice but to secure its vital trade routes through the South China Sea by alliance with China instead of the US. Other Pacific allies such as Australia and NZ, much of South America and Central Asia would shift orbit from the US to China.
Without our global alliances, the United States would be isolated in a world very much increasingly imperiled by global threats such as climate change and the rampant spread of nuclear weaponry. Even a "small" nuclear war between Pakistan and India would, as recent studies show, kill hundreds of millions globally. The Bulletin of Atomic Scientists recently noted the world is in as much or even more danger of nuclear war now than during the Cold War.
The global threats are growing. Our alliances and influence are weakening. This is a recipe for disaster, both to the US and our planet.
In attacking our democratic system and rule of law, Putin is attacking the very core of the global security and trade system that reflects and protects those values. There is no question Trump shares that hatred of democracy and rule of law with his master, Putin. With Trump disrupting and neglecting the UN, NATO, and the WTO—attacking all those agencies that globalized American democratic and legal values and systems, he proves himself a positive, present danger to the American Republic. His actions are wholly traitorous.
Yes, all these agencies need to better reflect our democratic values and better protect us as human beings, but they cannot be made better if they are destroyed. We cannot advance the global cooperation needed to address climate change and nuclear weapons without them. We cannot defend ourselves, our climate, our values, or our trade and hence prosperity alone. But Trump and Republicans today appear determined to strip us defenseless and to render us impotent.
Trump must be impeached and removed from office. And all those who defend this traitor must similarly be investigated for any criminality that may be found and/or voted from office. That includes Moscow Mitch, who may actually be a witting agent of Beijing, not Moscow, or perhaps of both. Assuredly, he is no patriot. Further, the "good behavior" of US Supreme Court justices who opened the door for Russian intervention and the destruction of our democracy must be fully, carefully investigated by Congress. If questionable associations (Deutschebank and a particular former justice come to mind) led to the majority forming this disastrous decision, the decision itself must be reconsidered. And if the "majority" do not reverse the decision, steps must be taken to impeach and remove justices who insist on forcing the United States to commit suicide. It cannot be considered "good behavior" to actively assist those who aim to destroy the nation.
As was said long ago, Now is the time for all good men and women to come to the aid of their country. We are clearly under attack from foes both foreign and domestic. Remember your oaths. Read the many diaries laying out how to assist in the coming election, and do your part, and do your part now in supporting our Congressional representatives who are standing up for us and our nation against those who want nothing less than to become rich by assisting the dismantling of this country.
Multiple actors in the United States, Russia, and Ukraine have been promoting the idea of investigating Ukraine's alleged election meddling, as well as the inquiry about the Bidens. The calls for such measures have been promoted especially by Ukrainian lawmakers known for their pro-Russian views, including Yuri Boyko, the co-chairman of Ukraine's biggest pro-Russian party.
"Russia's influence over its largest European neighbor can be restored only by undermining the American involvement."
According to the English-language Ukrainian newspaper Kyiv Post, three other Ukrainian lawmakers—Oleg Voloshyn, Valentyn Nalyvaichenko, and Andriy Derkach—are also "doing Trump's dirty work" to try to prompt the investigations he demanded from the Ukrainian president.
The Kyiv Post pointed out the lawmakers' links to the oligarch Dmytro Firtash, discredited former Prosecutor General Yuriy Lutsenko, and President Trump's former campaign chief Paul Manafort.
Voloshyn, who calls Manafort his friend, authored a flattering opinion piece about him in December 2017. At the time, Robert Mueller's prosecutors argued that Manafort violated a gag order by heavily editing Voloshyn's op-ed that attempted to whitewash Manafort's work in Ukraine.
The politically motivated investigations of the Bidens and Ukraine's alleged interference in the U.S. elections would play right into President Vladimir Putin's hands by jeopardizing bipartisan U.S. support for Kyiv. The Kremlin, which seized and annexed the Crimean Peninsula in 2014, sees Ukraine as the highly coveted jewel of the post-Soviet region. But Russia's influence over its largest European neighbor can be restored only by undermining the American involvement. Putin personally pitched in to paint a negative picture of Ukraine, when President Trump inexplicably sought his "guidance" on how to deal with President Volodymyr Zelensky.
The Kremlin has strived continually to drive a wedge between the United States and Ukraine in order to get the country back firmly into Russia's sphere of influence. Russian state media repeatedly urge the Ukrainian government to go along with Trump's demands, no matter how humiliating, or else lose any hope of continued U.S. support.
The host of Russian news talk show 60 Minutes, Evgeny Popov, warned: "If Trump gets re-elected, and you don't investigate Biden… [Ukraine] won't get anything from America. Not a thing." The co-host of 60 Minutes, Olga Skabeeva, scoffed: "With respect to mutual American-Ukrainian love, as we know, nothing lasts forever," adding, "Trump could spit on Ukraine."
The leader of a pro-Russian group of Ukrainians, Yuriy Kot, picked up that refrain: "Trump could spit on Ukraine!" Kot added that if Trump is re-elected, Ukraine can expect "four more years of hell from the United States of America. You don't even understand the horror that is coming your way." Skabeeva summed up: "For Ukraine, this is a catastrophe… Americans are directly telling you they're sick of you. Nobody needs you."
"Trump could spit on Ukraine."
— Olga Skabeeva, co-hose of Russia's "60 Minutes"
Such demoralizing drivel from Russian state media is, of course, designed to push the fledgling democracy away from the U.S. and back into Russia's orbit.
Trump, for his part, has been in the "blame Ukraine" camp for years as a way to diminish or discredit the consensus of the U.S. intelligence community and many of its Western allies that, as Fiona Hill pointed out, Putin had waged a systematic effort to undermine U.S. democracy, with support for Trump a part of that strategy.
Putin and Trump reportedly have discussed allegations of Ukrainian interference in U.S. elections. In a 2017 Oval Office meeting, Trump told Russian Foreign Minister Sergei Lavrov and Russian Ambassador Sergey Kislyak that he was unconcerned about Moscow's election interference. At the G20 in June of this year, Trump grinned and playfully wagged his finger as he told Putin: "Don't meddle in the election."
One month later, during Trump's now infamous July 25 call with Ukraine's Zelensky, Trump urged him to investigate Ukraine's alleged meddling in the U.S. elections—and the lesson drawn from all this by Putin?  Appearing at the economic forum Russia Calling, he smirked: "Thank God no one is accusing us of interfering in the U.S. elections anymore. Now they're accusing Ukraine."
But here's the fact of the matter. Russia's unprecedented interference in the 2016 U.S. presidential election has been described, with reason, as "the most successful influence campaign in history, one that will be studied globally for decades," and it is far from over.
Instead of counteracting Russia's malign influence, American foreign policy under Trump is seemingly being guided by it and leaders of the Republican Party are doing their best to aid and abet that program.
The wave of Kremlin disinformation started with faceless workers at the St. Petersburg "troll factory" banging away at their keyboards, striving to reach everyday not-very-well-informed Americans who would in turn misinform others within their sphere of influence.
The operation surpassed Putin's wildest dreams when ripples of disinformation surged into a tsunami as Candidate Trump and then President Trump started openly to recite Russia's fictive talking points. The range of dissemination was then magnified by Trump's Republican supporters, along with his 67 million Twitter followers, and media outlets hanging on to every word uttered by the leader of the mightiest country in the world.
Russia Can't Get Enough of Impeachment Hearings
In sum, there's no question the presidency of Donald J. Trump has proved to be enormously beneficial for the Kremlin, and supporters of the Russian president are openly rooting for Trump's re-election.
Russian state television channel Rossiya-1 has dispatched its reporter Denis Davydov to broadcast directly from the impeachment hearings and, probably this should not be a surprise, Russian state-media coverage sounded eerily like much of  Fox News, echoing the disingenuous claims by Trump supporters that there was no pressure against Ukraine and no "quid pro quo."
For the first time in modern history, in the era of Trump, Russian state television is more than happy to support the Republicans—and for a good reason.